KNX Scientific Conference 2006
November 9-10, 2006
The 2006 KNX Scientific Conference is over. Compared to the program folder below, the final conference programme was slightly different. The presentations are available on the Website of KNX Association (look for Downloads/Service - KNX Partners - Becoming a KNX Scientific Partner - 2006-11 Scientific Conference Papers Vienna). Photo impressions: Web album or 11.5M Zip file. Springer punktUM magazine covered the conference in its December issue (download the report [German]).
Programme
The invitation and programme folder is available for download from KNX Association (local copies, PDF: page 1, page 2). Besides the programme, it holds essential information on
Contacts
Registration, fees and payment
Hotel accomodation
Travel suggestions
This page provides additional local information that could not be included in the folder for lack of space.
Venue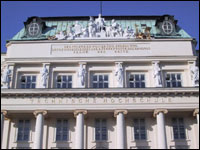 Vienna University of Technology
HS 7 "Schütte-Lihotzky"
Karlsplatz 13
Hof 2, Stiege 7 (Ground floor)
Vienna, Austria
The KNX Scientific Conference 2006 will take place in the main building of the Vienna University of Technology (TU Vienna). The buidling in its classicistic style (1815) is located in the heart of town at Karlsplatz, one of the places with the highest density of cultural locations in Europe.
The web site of the Vienna Tourist Board provides online hotel booking and information as well as information on sights and cultural events.
Travel advice
The Vienna International Airport (VIE) in Schwechat is about 20 km from the conference site. There are four ways to get into the city (the airport web site has further details):
Metropolitan railway ("Schnellbahn") S7 (EUR 3 - two zones)
Bus Service "Vienna Airport Lines" (about as fast as the S7, EUR 6)
City Airport Train "CAT" (more comfortable, 8 minutes faster to Wien Mitte than S7, EUR 8)
Taxi (about EUR 25)
Tickets for the CAT are not valid on the Schnellbahn and vice versa.
The Austrian Federal Railways (ÖBB) provide information on international train connections.
When travelling by car, please keep in mind that a toll sticker is required on Austrian highways and expressways (10 days: EUR 7,60). The conference site can be reached...
... from the south and east: Südautobahn (A2) - Südosttangente - Exit Gürtel - Südbahnhof - Prinz Eugen-Straße - Schwarzenbergplatz - Karlsplatz
... from the west: Westautobahn (A1) - Hietzinger Kai - Schönbrunner Straße - Rechte Wienzeile - Karlsplatz
... from the north: Donauuferautobahn (A22) - Südosttangente - Exit Gürtel - Südbahnhof - Prinz Eugen-Straße - Schwarzenbergplatz - Karlsplatz
Getting around
Parking near the conference site
Parking in the streets - except Wiedner Hauptstraße - is restricted to a maximum of two hours (and subject to a fee) during daytime Mondays to Fridays.
Staying near the conference site
The following hotels (within different price ranges) are within walking distance to the conference venue. No endorsement is to be deduced from the inclusion of a hotel in this (alphabetically sorted) list.
Best Western Beethoven
Millöckergasse 6, 1060 Vienna
580m
Carlton Opera
Schikanedergasse 4, 1040 Vienna
620m
Drei Kronen
Schleifmühlgasse 25, 1040 Vienna
580m
Erzherzog Rainer
Wiedner Hauptstraße 27-29, 1040 Vienna
590m
Clima Hotel Johann Strauss
Favoritenstraße 12a, 1040 Vienna
500m
Kaiserhof
Frankenberggasse 10, 1040 Vienna
250m
Mercure Secession
Getreidemarkt 5, 1060 Vienna
500m
Papageno
Wiedner Hauptstraße 23-25, 1040 Vienna
520m
Hotel Apartment Shermin
Rilkeplatz 7, 1040 Vienna
280m
Das Triest
Wiedner Hauptstraße 12, 1040 Vienna
280m
last modified 2006-09-14, gn